#BROWKNOWHOW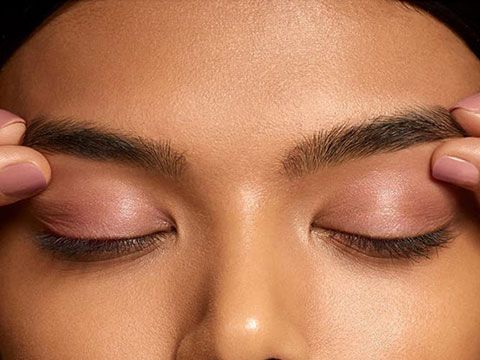 The Art Of Brow Pinching
Finger therapy to ease your eye area woes
Great brows can take years of your age it is said, but what benefit is that if you still have puffiness, fine lines and dark circles under your eyes? Rather than head for expensive salon treatments or procedures featuring scary needles, trying brow pinching – a pocket-friendly, DIY treatment that is reputed to reduce your eye area woes.

Tell you more? Of course, it's the point of this blog – so what exactly is brow pinching? Essentially it's a 10-minute facial massage that targets key pressure points around the eye and brow area to reduce puffiness and give the skin around the eye area a "lift". The treatment is inspired by ancient Ayurvedic well-being principles that are believed to promote overall health in the body. Through the stimulation of these pressure points, the build-up of tension around the temples is relieved and helps the body starts to relax and unwind.

The process uses a mix of firm kneading and gentle pinching at the top and bottom of the brows. Using your forefinger and thumb, start pinching at front of brows then pinch along the brows to the tail. Massage your temples with your forefingers and middle fingers and finally, apply pressure on the area between your two brows with the forefinger and middle finger of one hand. Repeat as desired for around 10 minutes and aim to develop a habit of doing this once a week.

The process is said to encourage elasticity, blood flow and a healthy glow around the eye area while relieving tension and reducing the appearance of puffiness under the eye area. The treatment is suitable for everyone, and there is no downtime after.
Let's face it, we all need some respite from our busy, multi-tasked filled lives – so take some time out to practice this meditation, recharge and reset. At worst you'll get improved circulation and more efficient lymphatic draining. At best, you'll get glowing, rejuvenated and healthier skin around the eye area and all the benefits that brings

So whether you take the claims with a pinch of salt, or have already scheduled your weekly me-time, why not give brow pinching a whirl? Our Julienne team are converts and recommend using a little moisturiser or facial tissue oil to better facilitate the massage. Here's to digital therapy!

COPYRIGHT © 2023 JULIENNE. ALL RIGHTS RESERVED.